INTRODUCTION
Parcel District Codes are codes/tags you can assign to a Parcel Record that allow you to filter reports and bill calculation by that code. This feature is helpful when you want only certain tax bills to contain a special fee or assessment.

For example, by creating a Waste Parcel District Code, you can assign that code only to parcels that should have the Waste Fee included. When you calculate your tax bills, only those parcels coded with the Waste Parcel District Code will have the Waste Fee included on the bills.

You can also use Parcel District Codes for assigning to Parcel Records as a means of identification of various city projects. Most all of the reports in Pontem's Tax Administration software can be filtered by Parcel District Code, allowing you to produce a list of parcels specific to an assigned code.

The remainder of this document will explain how to set up and assign Parcel District Codes to Parcel Records in your Pontem Tax Administration Software.

Though this document should be self-explanatory, if you need assistance, don't hesitate to contact the Pontem Help Desk. See page four for contact details.
STEP ONE: Creating a District Code
Create a District Code by clicking on: Edit | Adjust System Preferences | System Config | District Codes.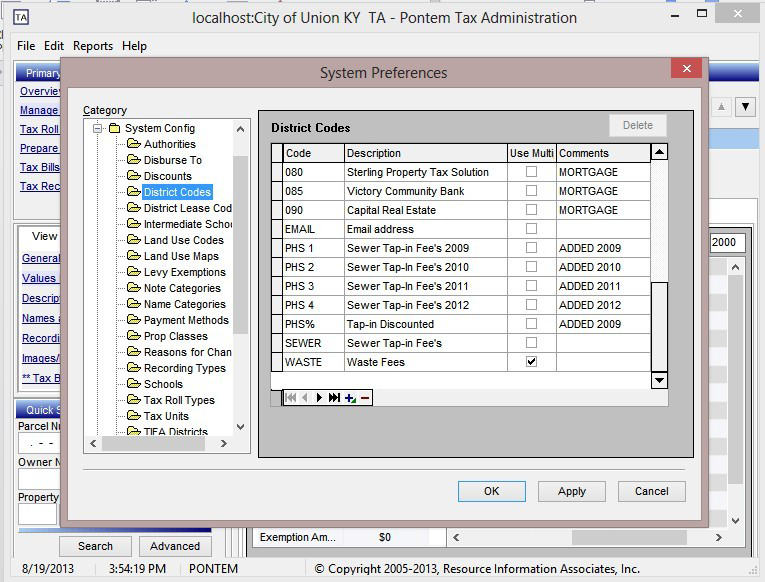 NOTE: By default, assigning a Parcel District Code to a record results in the tag appearing once. on the respective tax bill. However, a District Code may also be assigned a Multiplier for those instances when a particular property may need to be charged multiple times for a particular fee.
STEP TWO: Assigning the District Code to a Parcel Record
After the District Code has been created, navigate to 'Manage Property Records' to assign the code you created to a Parcel Record.

Select the desired parcel, then click on the 'General Page' link on the View Tab to see the parcel details. Next, click on the 'Edit General' button near the top of the window to enter the 'Parcel General Edit' screen.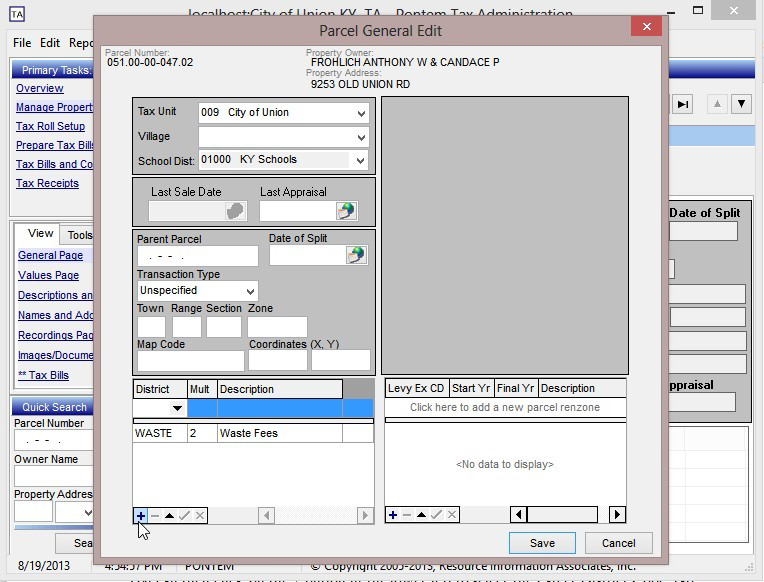 You can then click on the '+' button in the lower left to select the Parcel District Code. Tab over to the Multiplier field and make any necessary adjustments. Then, tab over to the Description field and enter the appropriate descriptive copy. When finished, click the Save button located in the lower-right.
Other Options for Assigning Parcel District Codes
Pontem's Tax Administration software also contains a number of tools within the program that allow for assigning (or removing) District Codes in bulk. Please contact Pontem Technical Support for assistance with these procedures.